Easy Integration of MODBUS Serial Devices into the Cloud
MODBUS devices are widely used in industrial automation processes transferring discrete/analog I/O and registering data between a client and several servers, i.e., measurement and control systems. Since the invention of the MODBUS protocol back in 1979, two serial variants have been developed: MODBUS ASCII and the more popular MODBUS RTU. The client/server-based communication protocol remains still popular since it is an open protocol, it requires minimum hardware and the development is easy under any operating system, keeping it simple and cost-effective. In North America and Europe, there are over seven million MODBUS nodes. However, serial devices cannot be connected directly to the cloud. Cloud-enabling MODBUS serial gateways allow companies to maintain their investments. The MODBUS TCP protocol allows secure connection to the MODBUS network via Ethernet communication.
Learn in this blog article how to connect your MODBUS serial devices to the cloud. The Pepperl+Fuchs MODBUS TCP test client simulator supports this process.
Conversion to MODBUS TCP
To connect MODBUS serial devices to the cloud, an Ethernet protocol is required. There are three major cloud protocols: OPC UA, MQTT, and MODBUS TCP. If your MODBUS devices are local and need to reach the cloud, a conversion from MODBUS serial to MODBUS TCP is required. Pepperl+Fuchs offers easy-to-use serial gateways from its DeviceMaster® product line. The portfolio of MODBUS serial gateways includes many such conversion devices, depending on how many devices and what type of connections you need. Most MODBUS serial devices are connected with RS485. This multi-drop network allows simultaneous communication of up to 31 devices, which can be converted to Ethernet using a single gateway.
Network-wide MODBUS Connectivity with MODBUS Serial Gateways
The ICDM-RX/MOD* MODBUS serial gateways from Pepperl+Fuchs provide an innovative network-wide MODBUS connectivity from a variety of MODBUS clients to a broad range of local and remote MODBUS servers. Advanced features include client-to-client communication, private serial bus connectivity, write protection, and device ID aliasing. With simplified configuration pages and advanced routing, the devices offer unmatched MODBUS connectivity. The integrated web server enables complete configuration of all module parameters such as serial interface, baud rate, data bits, stop bits, or flow control.
Pure MODBUS, multiple MODBUS server and client types, remote, local, and private devices
RS-232, RS-422, and RS-485 software selectable interfaces
Web-based configuration

Easy Integration of MODBUS to Ethernet Networks and Cloud
If you want to connect your MODBUS serial devices to your local PLC, because your PLC may already have cloud connectivity, Pepperl+Fuchs also offers these gateways. You will need a MODBUS-to-EtherNet/IP gateway for Allen-Bradley PLCs and a MODBUS-to-PROFINET IO gateway for Siemens PLCs.
The EtherNet/IP gateways and PROFINET IO gateways from Pepperl+Fuchs enable the connection of serial devices (RS-232, RS-422, RS-485) such as barcode scanners, RFID readers, and weigh scales to EtherNet/IP, PROFINET IO and MODBUS networks. The gateways combine an EtherNet/IP or a PROFINET IO interface with a MODBUS gateway functionality and a built-in programmable data mapping sub-system that ties all information together and doubles as a MODBUS concentrator. The integrated web server provides extensive diagnostics, intuitive, and flexible configuration options, secure interfaces, and numerous maintenance options. The highly flexible gateways allow full integration of EtherNet/IP or PROFINET IO controllers into simple or complex MODBUS networks. Ethernet-based automation systems such as PLCs, HMIs, SCADAs, and OPC servers can communicate bidirectionally to almost any MODBUS gateway or client, either locally or remotely. MODBUS TCP/IP versions allow connection to PC-based systems.
PROFINET IO to and from Modbus TCP, Modbus ASCII, Modbus RTU and Modbus to Modbus communication (with ICDM-RX/PN1-* gateway series)
Connect serial and Ethernet TCP/IP devices to PROFINET IO controllers and TCP/IP applications (with ICDM-RX/PN-* gateway series)
EtherNet/IP to Modbus TCP, Modbus TCP to EtherNet/IP, and Modbus to Modbus communication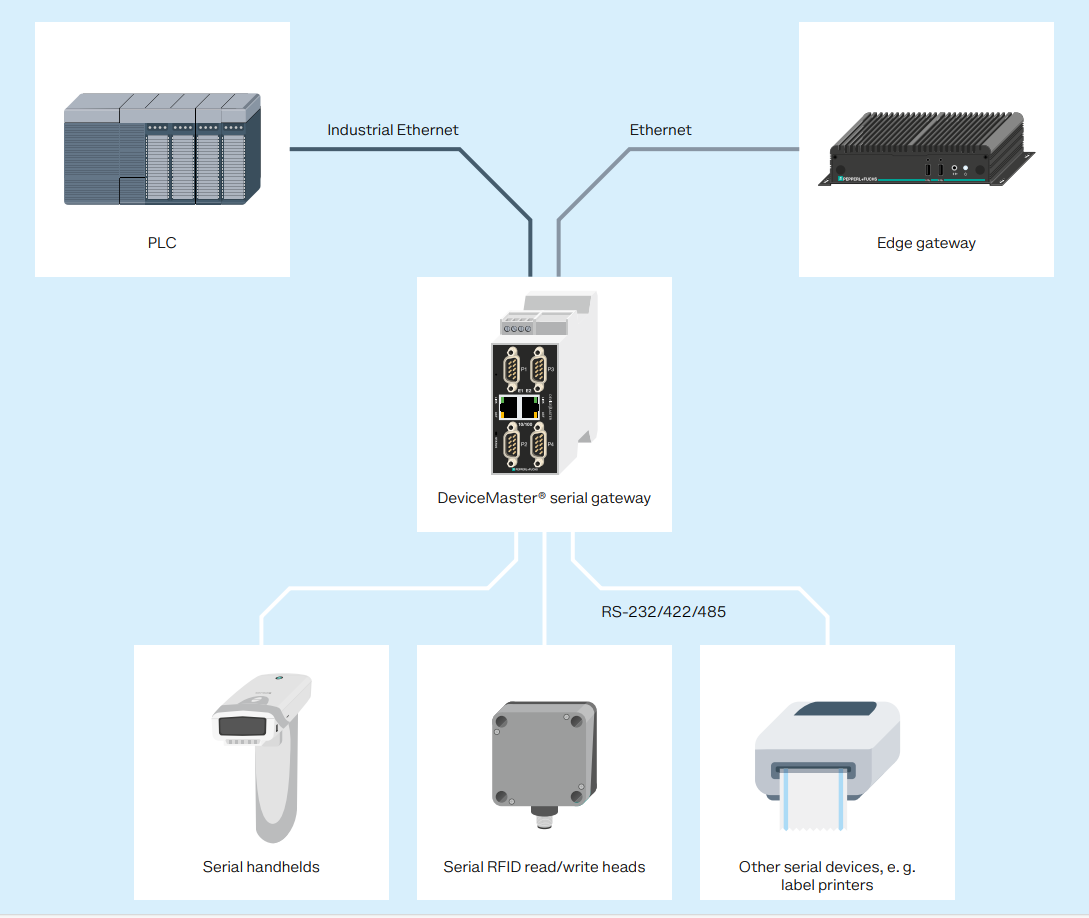 Free MODBUS TCP Test Client Simulator
Are you still using MODBUS TCP test clients like MODBUS POLL or MODSCAN32 for which you have to pay a license? Pepperl+Fuchs offers a free MODBUS/TCP Test Client Simulator. You can connect to your MODBUS serial devices through the MODBUS gateways and then test them with the simulator to make sure they are all wired correctly. This software runs on Windows 10 and does not need to be installed. It is as simple as download and execute. The PLC-like setup window lets you simulate the scanning of MODBUS registers at a specific scan rate. With the built-in timers, you can also blink lights on demand. The software version is updated from time to time, so save the link.
Ultimately, there is no reason to throw away your old MODBUS serial devices. And exchanging legacy into IoT-enabled devices can be unnecessarily costly and time-consuming. There are many gateways on the market that can get the data where you want it. Pepperl+Fuchs supports you choosing the right gateways to make your plant ready for IIoT applications.
More Information
Subscribe to our newsletter and receive regular news and interesting facts from the world of automation.
Subscribe