Easy Configuration and Device Management with PortVision® DX Software
PortVision® DX is a Pepperl+Fuchs software for easy device management and configuration included with all DeviceMaster® serial gateways, ICE2 and ICE 3 series IO-Link masters, and RocketLinx® managed Ethernet switches. This free software allows you to configure network settings, upload firmware, manage, and monitor Ethernet-attached devices within one application. PortVision DX detects Pepperl+Fuchs Ethernet-attached devices, eliminating the complicated patchwork of separate drivers, web interfaces, and proprietary software typically needed to deploy a network of industrial communication devices.
Device Management with PortVision DX
PortVision DX locates the products on the local network and automatically loads the device name, model, IP address, MAC address, software version, and status. You can then easily access, organize, and configure your devices.
You can organize your devices to fit your environment by creating folders and moving the appropriate devices into the folder.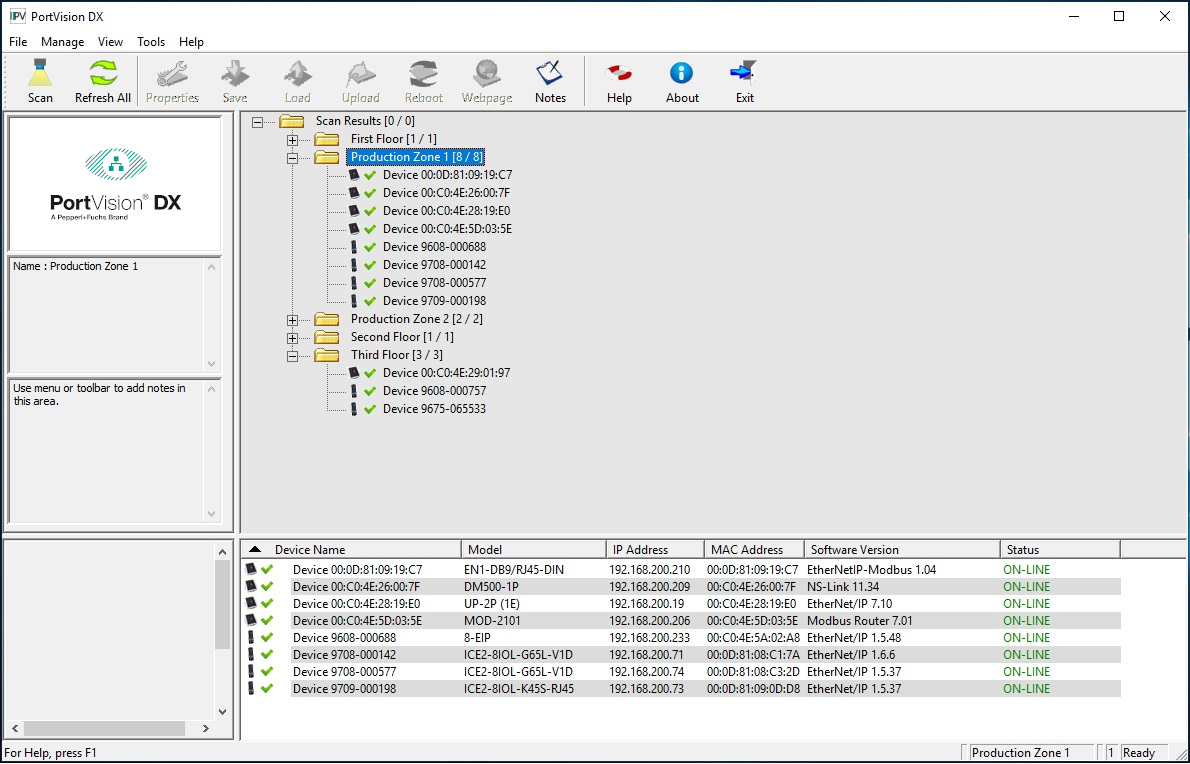 Configuration via Web Interface
The web interface is helpful if you are not familiar with the software parameters of your device. Accessing the web interface allows you to do the following:
DeviceMaster Serial Gateway: Configure socket mode or serial tunneling (SocketServer or NS-Link, depending on whether you have installed the NS-Link device driver, especially developed for DeviceMaster). COM port configuration is done using the Comtrol Drivers Management Console, which is installed when you install the NS-Link driver.
ICE2 and ICE 3 Series IO-Link Master: Configure the complete IO-Link master as well as attached IO-Link devices, fieldbus and IoT protocol settings.
RocketLinx Ethernet Switches: Configure your RocketLinx managed industrial Ethernet switch. Optionally, you can use the Command Line Interface (CLI).
Useful Built-In Applications
PortVision DX software provides access to several useful tools and applications. By default, PortVision DX provides links to Test Terminal (WCom2) and Port Monitor (PMon2).
Test Terminal is used to troubleshoot communications on a port-by-port basis. It enables you to open a serial port, send characters and commands to the port, and toggle the control signals, and more. Port Monitor offers a summary of all Pepperl+Fuchs' device statistics in one view to verify a device's operation and status.
In addition to identifying Pepperl+Fuchs Ethernet-attached products, PortVision DX can also graphically display any unmanaged Pepperl+Fuchs or third-party devices and hardware. All non-Pepperl+Fuchs products and unmanaged RocketLinx devices are treated as non-intelligent devices. Their inclusion enables network administrators to diagram a complete network topology, but they otherwise have limited feature support.
<p style="text-align: left;">Subscribe to our newsletter and receive regular news and interesting facts from the world of automation.</p>
Subscribe