IO-Link Masters Make Factories Smarter
Industry 4.0 applications require sensors that do more than just deliver process data to the PLC. Sensors must also be able to communicate with PLCs and higher-level SCADA or cloud systems. Pepperl+Fuchs IO-Link masters make this possible.
There are two different product versions available:
ICE2 Series:
EtherNet/IP for PLC control
MODBUS TCP for PLC or HMI
OPC UA and MQTT for SCADA and cloud systems
ICE3 Series:
PROFINET for PLC control
MODBUS TCP for PLC or HMI
OPC UA and MQTT for SCADA and cloud systems
These platforms merge the benefits of IO-Link with the flexibility of control and monitoring through MultiLink™, which allows users to run multiple protocols simultaneously to send data to separate systems. This results in advanced access to process data, service data, and diagnostics. With this information, plant operators can reduce downtime, optimize maintenance planning, and increase efficiency.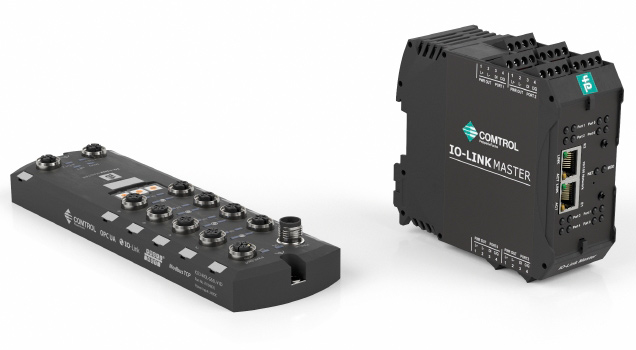 Reduced Downtime
With automatic device replacement / data storage, your IO-Link device can be automatically configured using previously stored values. Quick and easy replacement of failed or damaged sensors and actuators reduces downtime and maintenance costs. Pepperl+Fuchs is able to link device replacement with PortVision DX to clone a module configuration or store it as a back-up.
Simplified Installation and Configuration
Field-mount ICE2 and ICE3 modules connect with nearby sensors. Instead of running each sensor back to a cabinet, users need only supply power and Ethernet to the block. Sensors can be connected from up to 20 meters away from the modules. This simplifies installation and configuration. For applications that still rely on cabinets, Pepperl+Fuchs does also offer DIN-rail mountable IP20 IO-Link masters.
Increased efficiency
Being able to easily integrate new devices into an existing infrastructure is a crucial point for users. Due to the support of different protocol types, an integrated IO-Link interface and digital inputs or outputs, the ICE2 and ICE3 series fully meet these requirements. In addition, numerous IOs can be connected using I/O hubs.
With the help of MultiLink™ technology and OPC UA interface, new, less time-critical applications can be easily and cost-effectively mapped via HMI, SCADA or cloud-based systems. This means there is no need to adapt existing PLC code or replace older, but still powerful controllers.
The advantages at a glance
IO-Link masters of the ICE2/ICE3 series from Pepperl+Fuchs offer a number of benefits: They increase plant efficiency by reducing downtime and optimizing plant planning. With the help of the sophisticated integrated MultiLink™ technology, IO-Link devices can establish bidirectional data transmission simultaneously with a classic controller as well as with modern computer- and cloud-based systems.
<p style="text-align: left;">Subscribe to our newsletter and receive regular news and interesting facts from the world of automation.</p>
Subscribe