Four Scenarios for Using IO-Link Masters with OPC UA Interface
Networking different systems from diverse manufacturers—all of which feature different interfaces, profiles, and communication mechanisms—is the challenge of Industry 4.0 and the Industrial Internet of Things (IIoT). This is where OPC UA comes in. It creates a uniform basis for continuous information exchange from the field to the cloud.
OPC UA, short for Open Platform Communication Unified Architecture, enables the platform-independent, interoperable, and cross-vendor collaboration of machines in production. It makes communication between machines and systems possible—both in closed networks and via internet. But OPC UA is more than just a communication protocol: The architecture also includes data models and interaction concepts. Scalability is another great advantage of the standard. Depending on the requirements profile and scope of the application, the focus can be either on performance or security, for example, authorization, encryption, certification, or authentication.
In this article, we will show you what applications are possible with the open data exchange standard.
Scenario 1: Parallel Operation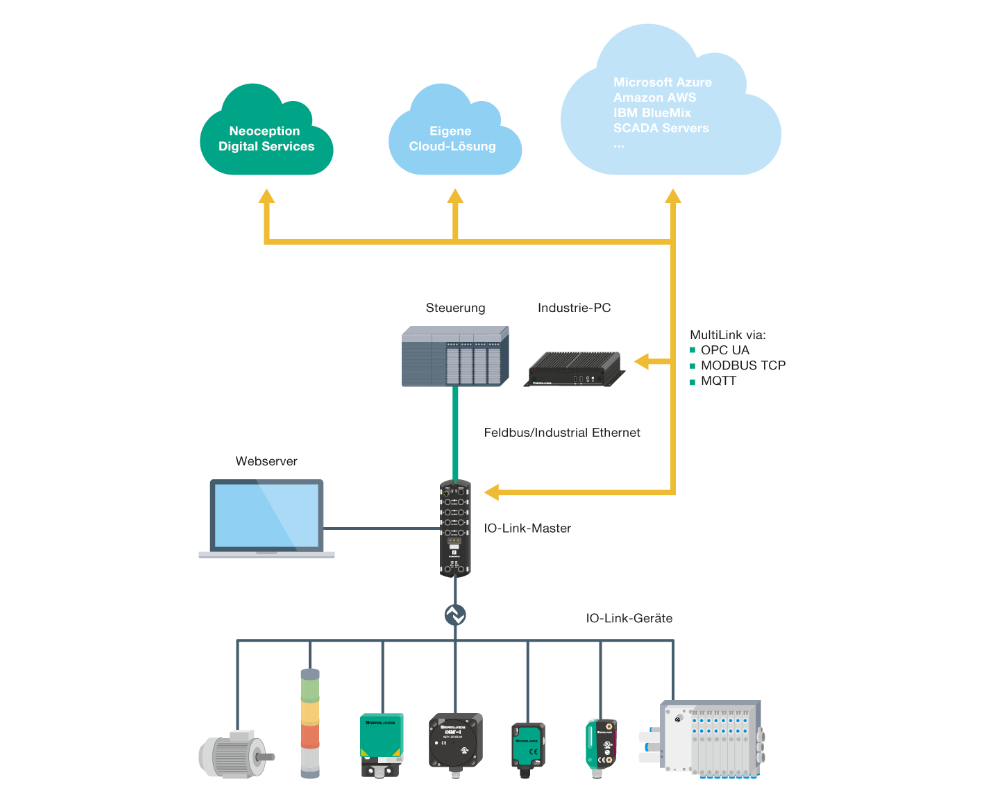 OPC UA can be used in parallel with standard industrial machine control systems, enabling the transfer of value-added data to the cloud. With the MultiLinkTM technology developed by Pepperl+Fuchs Comtrol, the IO-Link master is able to transfer sensor data to both the PLC and the cloud via several protocols. The BTC12 intermediate edge gateway establishes communication with the IO-Link master, adapts to the cloud interface, and ensures secure data transmission. This way, various IoT applications such as predictive maintenance can be implemented.
Scenario 2: Retrofit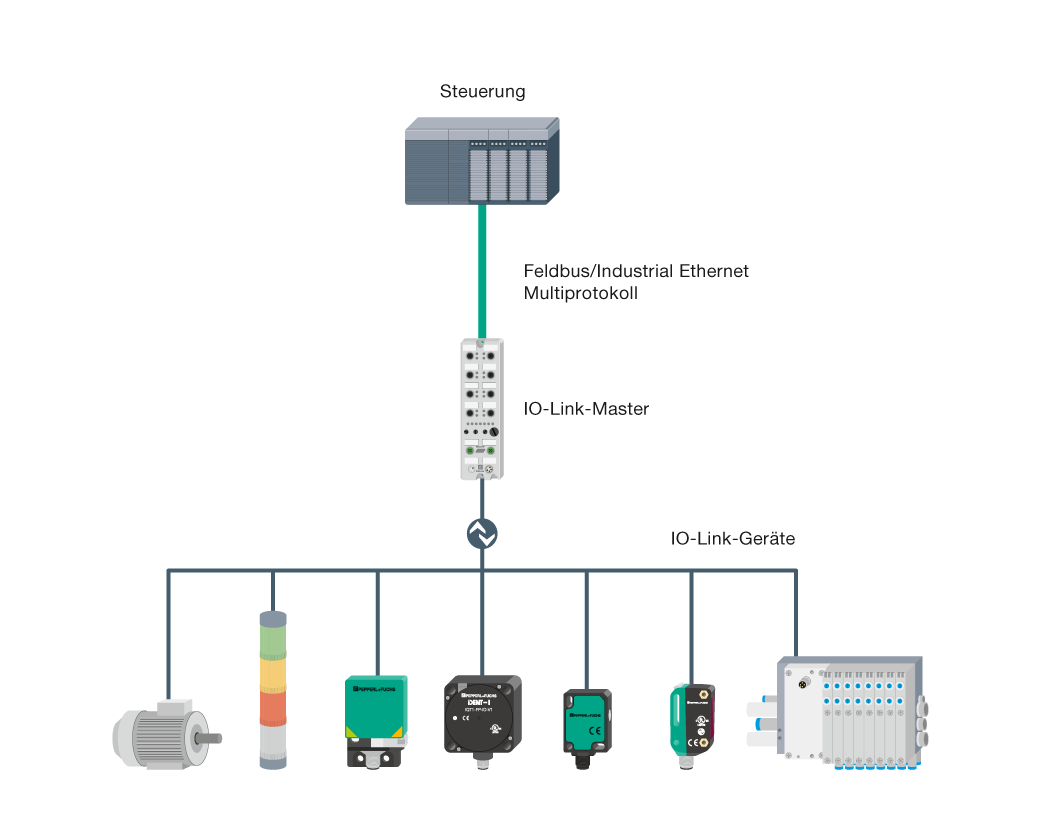 OPC UA can also be used in retrofit solutions. If a conventional IO-link master is already in use, it can be replaced with an ICE2 (EtherNet/IP) and ICE3 (PROFINET) series IO-link master that features an OPC UA interface.
With the help of the integrated MultiLinkTM function, different systems, like several clouds, can be supplied with data simultaneously and in real time. In addition to data transfer to multiple clouds, an integrated OPC UA server also enables parallel communication with a higher-level PLC via PROFINET.
Scenario 3: Application without a Traditional PLC Environment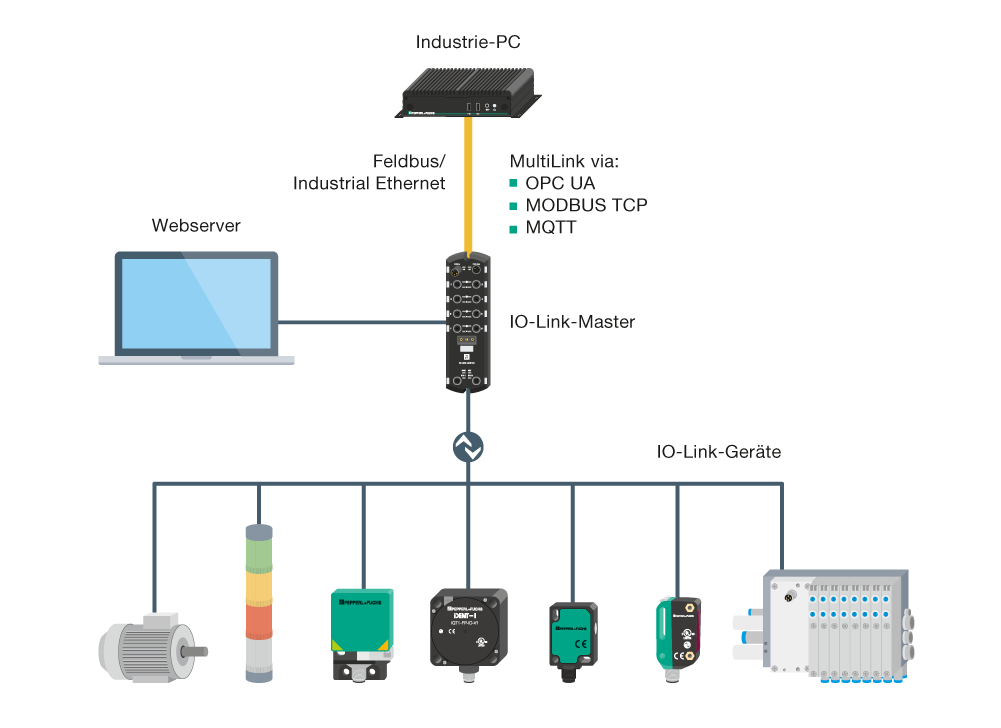 In future applications, users will face the challenge of having neither a traditional PLC nor a PLC with sufficient performance capabilities.
An example of this type of application is the asset management and track and trace of components with direct ERP or MES connection via OPC UA. But even in other application areas, such as in automated guided vehicles, high-performance PLCs do not necessarily have to be used. Thanks to the scalable footprint, OPC UA clients can instead be ported to comparatively inexpensive microcontrollers. However, there are also applications in which new functionalities cannot be mapped via the PLC, and PC-based control systems are used instead.
The OPC UA interface that is integrated into the IO-Link master establishes a direct connection to these systems, for example, to an edge gateway such as the BTC12 box thin client from Pepperl+Fuchs. This makes it possible to implement applications without a traditional PLC environment.
Scenario 4: Application with Multiple PLCs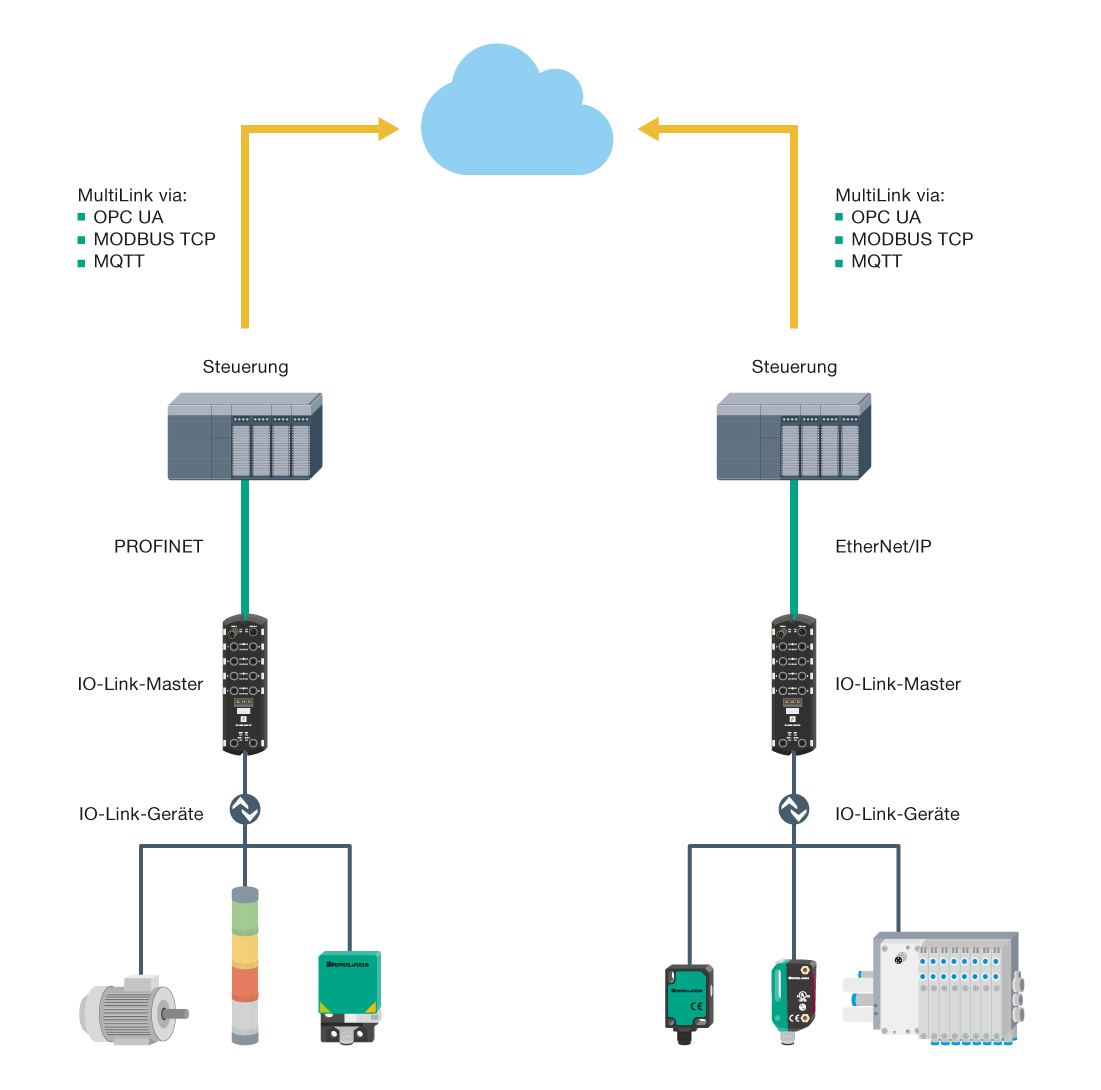 Welding cells are a typical example for the use of multiple PLCs. Inside a complex welding cell, there are several PLCs, robots including their own robot control, a PC-based measuring station, PC-based optical quality controls, and a cooling water supply. A higher-level PLC controls all processes in the system via PROFINET, the PC-based systems have an Ethernet TCP/IP network card, and the cooling water station and the robot controller each run via a proprietary protocol.
Case 1: OPC UA enables communication and direct data exchange between the systems despite different fieldbus protocols. For example, this enables the robot to communicate with other systems within the plant directly or via the cloud.
Case 2: Discharge values of the cooling water entity (including further process parameters such as cycle time and temperature values) are recorded and evaluated for preventive maintenance. Via OPC UA, the determined values are transferred to higher-level systems or directly to the cloud, where digital services and others can access them. These analyze the records to identify irregularities based on possible deviations to prevent errors and resulting damage.
Case 3: The measuring station supplies measurement data to a database and, in parallel, to a control system. Using OPC UA, measurement data can be easily transmitted via two different channels.
By integrating OPC UA into the ICE2 (EtherNet/IP) and ICE3 (PROFINET) IO-Link master series for the first time, Pepperl+Fuchs has laid the foundation for seamless communication from the field to the cloud. In addition to the real-time fieldbus protocol, the modules feature an OPC-UA interface, which makes them perfect for cloud-based systems. With a fully web-based configuration concept that does not require any additional software, they can be commissioned efficiently and are also an ideal solution for stand-alone applications without a higher-level PLC.
Subscribe to our newsletter and receive regular news and interesting facts from the world of automation.
Subscribe