Vision Sensors—Three Examples for Industrial Vision in Material Handling (Part 2)
Whether control, positioning, or monitoring—the tasks of vision sensors in storage and material handling could hardly be more diverse. Pepperl+Fuchs offers a comprehensive portfolio in the area of industrial vision for the various requirements of these tasks. In this blog article, you will gain insights into three applications for vision sensors in material handling and learn what advantages the products used can also offer for your application.
1. Industrial Event Camera VOC Monitors Automated High-Bay Warehouses
Automated high-bay warehouses with stacker cranes enable fast storage and retrieval and ensure optimum use of warehouse space. In deep-freeze storage facilities, for example, it is particularly important that the processes run without interruptions to ensure a continuous cold chain. The VOC industrial event camera with integrated memory function is suitable for monitoring these storage and retrieval processes. For this purpose, the IP camera is mounted directly on the stacker crane and records the last sixty seconds of the continuous video livestream in HD quality in its integrated ring buffer. As soon as an error or other defined event occurs as a so-called trigger, the temporarily stored data is transferred to the permanent memory of the integrated SD card. The camera stores up to sixty seconds before and after the event. This allows users to quickly and easily access the relevant recording of the situation for immediate error analysis or long-term process optimization.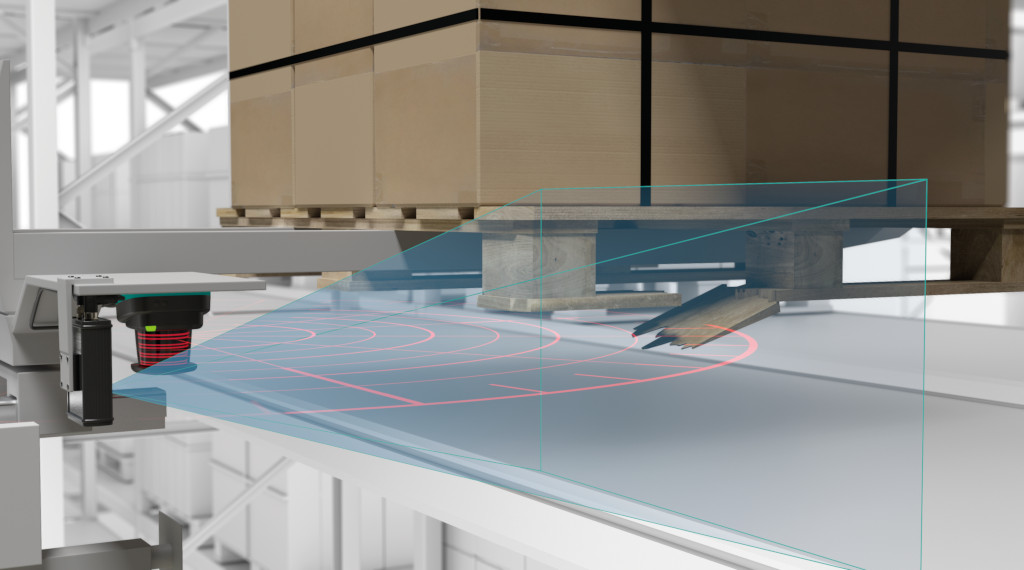 A customized user interface and direct integration into the IT system can be programmed via REST API. The event camera is also equipped with an integrated heating system and can therefore withstand temperatures in an operating temperature range of –30 °C to +50 °C. It complies with degree of protection IP65 and is dust- and water-jet-proof.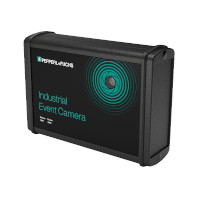 2. Reliable Positioning of Stacker Cranes in High-Bay Warehouses with the PXV Absolute Positioning System
Precise and at the same time fast positioning of stacker cranes in automated high-bay warehouses is particularly important to ensure high throughput and avoid costs due to downtime. The PXV absolute positioning system offers the perfect solution with a highly accurate positioning resolution of 0.2 mm on the X and Y axes and a travel speed of up to 8 m/s over a distance of up to 100 km. It therefore ensures fast and precise positioning of the stacker crane for storage.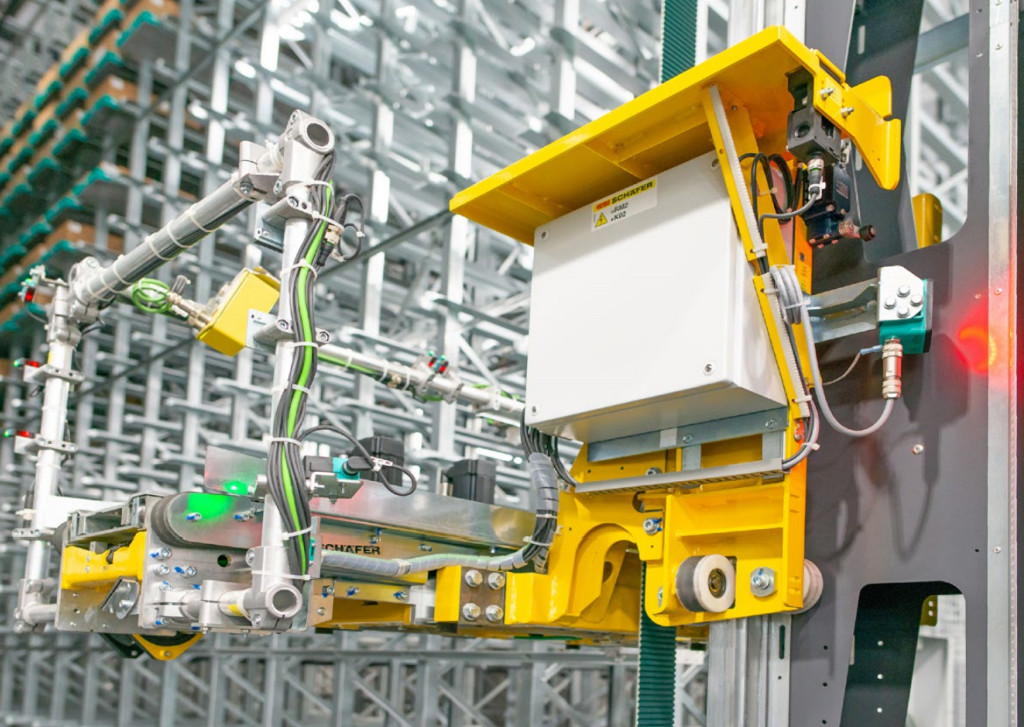 The Data Matrix code tape, which is only 25 mm wide, is attached directly in the shaft of the stacker crane. The 2-D camera is located on the moving carrier. In addition to simple installation and commissioning, the PXV offers the advantage of no follow-up costs or calibration and maintenance intervals. The safePXV safe absolute positioning system with PROFIsafe is suitable for SIL 3 / PL e applications at particularly high altitudes. In addition, it is extremely insensitive to dirt—code redundancy allows several codes to be read simultaneously on the tape.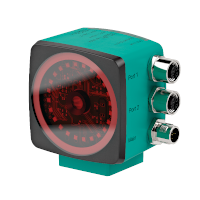 3. Targeted Control of Mobile Robotic Arms with the VOS2000 2-D Universal Vision Sensor
Collaborative robots with multi-axis arms are increasingly used in production and intralogistics. These are often mounted on an automated mobile platform such as an AGV or AMR and guide raw material or individual components to a machine or process step. The robot first detects the position of the part to be picked up and selects the correct part. In this process, the controller needs optical information to recognize the target objects and determine the positions to be approached.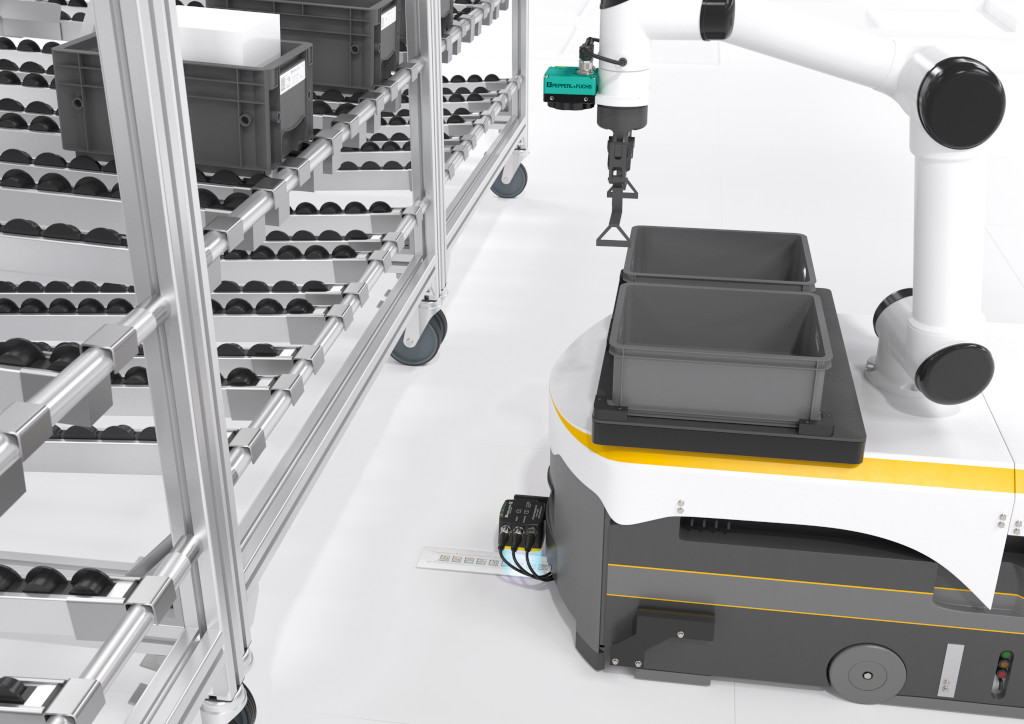 The VOS2000 2-D universal vision sensor is ideally suited for this task. The camera has a particularly high resolution and a large detection range. In addition, the sensor can perform several tasks simultaneously:
Detect characteristics of the parts to be recorded based on contours
Color or pattern comparison
Position recognition (position and orientation)
Counting for comparison of target and actual condition
Individual identification and assignment of parts using 1-D and 2-D codes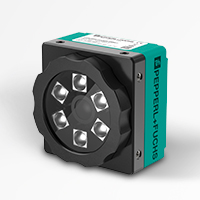 The measuring field and system lighting can be flexibly adjusted according to application requirements. With its compact housing design, the VOS2000 2-D universal vision sensor can also be easily mounted on the mobile robot arm. In addition, it offers a comprehensive software package with flexibly combinable vision tools such as positioning and guidance or detection and matching, which handle all standard tasks. The VOS2000 with integrated lighting has a mechanically adjustable focus that enables different measuring ranges. Models with C-mount connection can also be combined with external lenses and system lightings. Due to the extensive accessories and comprehensive vision tool set, no additional hardware or software is required.
Are You Still Looking for a Solution for Your Application?
Pepperl+Fuchs offers a comprehensive portfolio of universally applicable vision sensors, application- or customer-specific products, and turnkey solutions. The powerful technologies can be used to solve a wide variety of tasks in the field of industrial vision. Talk to experts and together we will find the vision product or solution that optimally fits your individual requirements.
Subscribe to our newsletter and receive regular news and interesting facts from the world of automation.
Subscribe