Ethernet-APL—8 FAQs about Plant Performance with Digital Communication
Ethernet-APL enables continuous communication and fast data transmission from the field level to the process control system and the cloud. The Ethernet Advanced Physical Layer meets all the requirements of the process industry: two-wire line, realization of long cable runs, interoperability of systems and technologies, and use in hazardous areas up to Zone 0/Class I, Div. 1. However, as with all modern technologies, questions also arise. We answer eight frequently asked questions about the plant performance with digital communication and what users should look for when building an Ethernet-APL network.
1. Why is Ethernet-APL considered so reliable?
First of all, Ethernet-APL specifies a point-to-point connection between switches and devices. This means that an Ethernet-APL network is, by definition, highly insensitive to crosstalk. Any operations on the device connection can be carried out while the system is running, since the connect and disconnect processes do not affect plant operation. This reduces possible sources of error and any undesirable effects on plant performance.
The device can be uniquely identified at the instrument port of the field switch. Higher-level protocols and profiles use this information to recognize and identify the device. Users can now base standard operating procedures on automated workflows for commissioning and device replacement. The host system detects that the installer disconnects a device and reconnects a device of similar type or make. The systems can now guide the installer and operating personnel through the actual loop testing.
Ring redundancy is an Ethernet concept that can be deployed between the field switch and the control room. Ring redundancy has been adopted as a standard by PROFINET. Similar concepts exist for most industrial protocols, such as EtherNet/IP™, where this is referred to as device-level ring.
Ethernet-based communications allow easy implementation of redundant controllers. Controller redundancy can be developed independently of the network architecture since Ethernet allows multiple communication relationships to be executed in parallel across the same infrastructure.
Now, most of these points have only little to do with Ethernet-APL. Ethernet-APL provides the connection over the last hundreds of meters to the process instrument. With Ethernet-APL, the same Ethernet-based concepts apply to the entire network and infrastructure. This eliminates the need to connect digital fieldbus systems via gateways, making implementation simple. This leads to the next important consideration.
2. How does Ethernet-APL technology reduce the number of gateways required?
This is the main advantage of Ethernet-APL. One Ethernet-based network is used for the entire automation system, and the underlying physical layer can be selected according to requirements. The device now speaks the same language—such as PROFINET, EtherNet/IP, HART-IP, or OPC UA—as the controller. Gateways and protocol translations are redundant.
However, that's not all: Ethernet-APL specifies the same reference cable that is used for PROFIBUS PA devices. With excellent integration technologies such as the PA profile and proxy technology, the Ethernet-APL field switch can now translate data from PROFIBUS PA instruments into PROFINET, virtually making it appear like a native PROFINET device.
This provides users with investment protection for their installed base of instruments and a way to accelerate deployment of Ethernet in the field of process plants. With the field switch as the integrating component, both Ethernet and PROFIBUS PA communications can run on the same infrastructure, allowing the protocols to be combined as needed during the time that device manufacturers are upgrading their Ethernet-APL offerings.

3. Can Ethernet-APL be used for safety applications?
Absolutely! Ethernet-APL enables continuous and fast communication from the field level—in hazardous areas up to Zone 0/Class I, Div. 1—up to the process control system and the cloud. And it is a great feature for users to have only one infrastructure for all device communications. This reduces management effort for safety instrumentation from design to setup to commissioning and operation.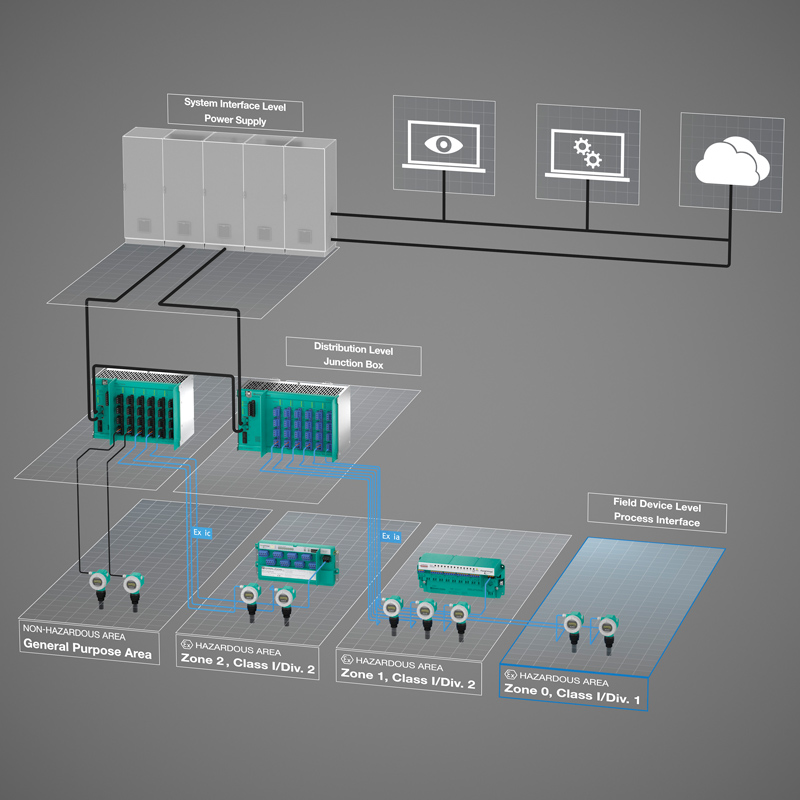 After all, Ethernet-APL is simply a physical layer. It is layer 1 of the OSI model, carrying power, bits, and bytes. Safety protocols are part of layer 7, the application layer. Therefore, the technology can be used for safety instrumentation as well. Device manufacturers have a unique opportunity to implement safety as part of the software, which would reduce development, testing, and certification costs.
With about 40 % of all process signals now related to safety, we believe that the integration of safety into software will happen sooner rather than later. It is helpful when users express a desire to their device manufacturers to explore and deploy Ethernet-APL, encouraging them to invest in digital communication.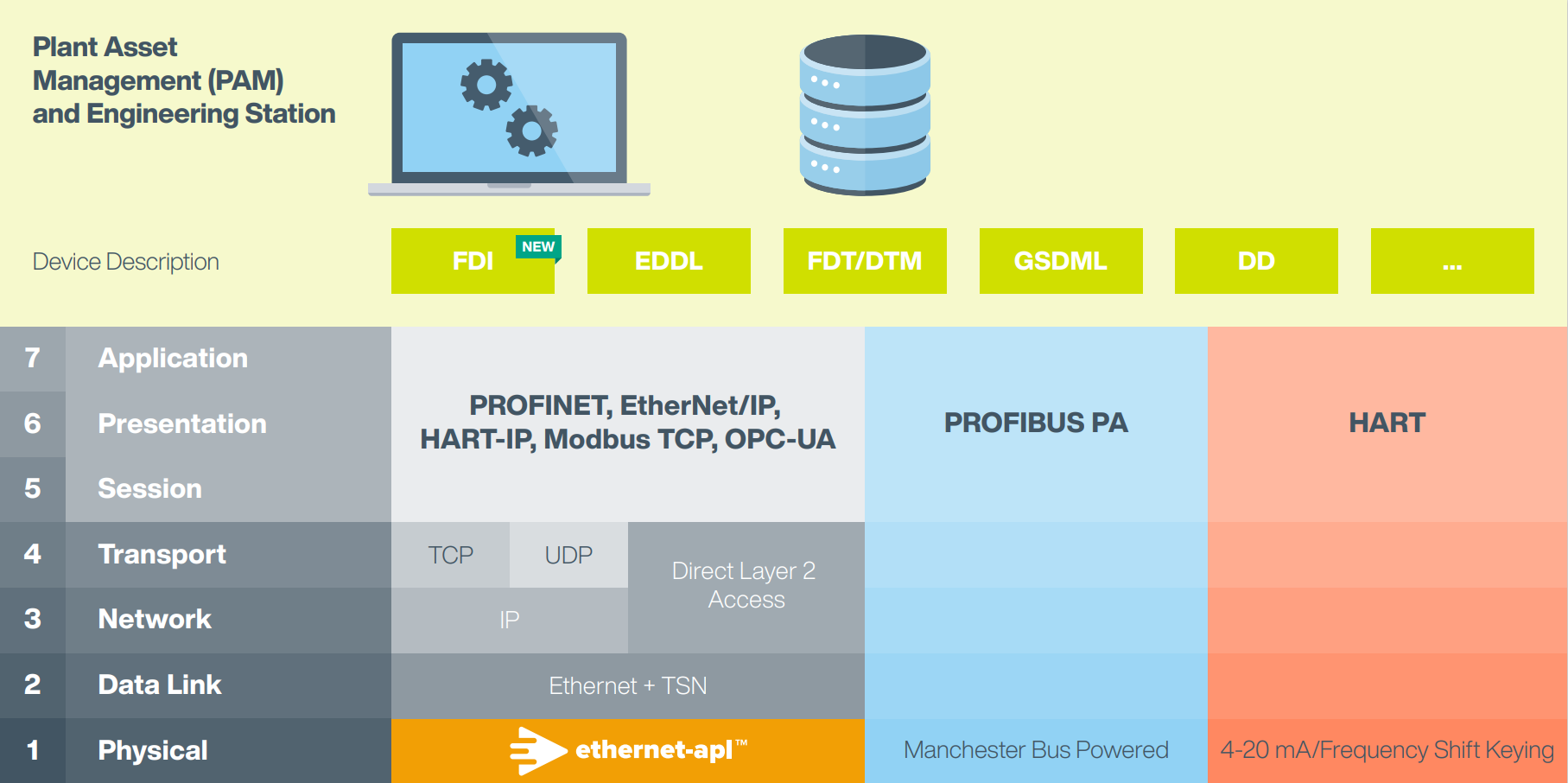 4. Why do I need the high bandwidth of 10 Mbit/s?
The bandwidth and flat infrastructure of Ethernet are important for many applications and lead to the complete digitalization of many process plant assets. With the high bandwidth and fast update cycles, users can realize higher precision in closed loop control. Digital nameplates eliminate any equipment and tag concerns. The asset management system can track device status in real time and manage diagnostics and alarms. The engineering systems can retain full backups of all device settings and data. They can automatically restore settings after a device replacement. With digital lockout and tagout, equipment information is available digitally in real time and remotely from a mobile device.
Once Ethernet-APL becomes mainstream, users will have more ideas on how to support their standard operating procedures with automation and continue to improve safety and reliability in their plants.
5. How can the installed base reap the same benefits of Ethernet-APL as new plants?
Integration includes any type of brown field project. Device descriptions in the form of FDI packages, GSD, or FDT DTM packages provide the integration technology needed to access any signal. Ethernet and power to a single junction box with an Ethernet-APL field switch and remote I/O unit provide connectivity for:
Any protocol via Ethernet-APL
PROFIBUS PA connecting to PROFINET
Any analog signal via PROFINET with or without HART
During a control system upgrade or major plant upgrade, users can protect their investment in their existing instrumentation and leave the cables in place between the junction box and the instruments. This represents significant savings! Everything inside the junction box that is connected to higher-level systems can be designed for high availability with redundancy for installation, power supply, and control.
During modernization, users can decide for each individual device whether upgrading to Ethernet-APL will provide an economic benefit to plant operations. The infrastructure allows connection to any instrument, so users can protect their investment in the installed base. Therefore, users can combine signals from any instrument and utilize any data provided by the instruments, regardless of the communication technology selected and in place. Ethernet-based protocols offer the easiest method of integration due to the many supporting features on which the broad acceptance of Ethernet is based today.
6. Will existing technologies remain as slow as before despite high bandwidth?
Not really. While a HART or PROFIBUS PA transmitter will always take longer compared to Ethernet-APL, the infrastructure still brings more efficiency to the application. Remote I/O and field switches provide one primary module per device connection compared to the multiplexing technology available today. Communication between the junction box and the instrument can occur in parallel, eliminating the wait time between transmissions and improving overall system response.
7. What do I have to consider when modernizing a system with Ethernet-APL?
If you are considering a modernization, we recommend using Ethernet-based communication to the field. Users should review and consider their plant setup for the following constraints:
FieldConnex Ethernet-APL infrastructure is suitable for Zone 2 installation.
Switches and remote I/O require auxiliary power.
Distances of up to 2 km between the field and control room can be bridged via fiber optics.

8. How can I protect an Ethernet-APL network from cyberattacks?
To protect your plant from unwanted access, take a systemic approach. As with IT security in corporate networks, evaluate various attack scenarios and the network's vulnerability. Take appropriate security measures to defend against these attacks. This includes restricting access rights to certain areas or for a limited period of time, e.g., for maintenance companies. Since Ethernet-APL networks are pure Ethernet, all protective mechanisms can also be applied in the future.
Subscribe to our newsletter and receive regular news and interesting facts from the world of automation.
Subscribe