IO-Link as a Retrofit Solution for Legacy Systems
The internationally standardized IO-Link technology offers many new features and benefits that help modernize existing systems for Industry 4.0. And with the massive shift to smart manufacturing in modern production environments, many companies are beginning to consider implementing IO-Link in their existing manufacturing systems. In this article, you will learn more about the advantages of intelligent communication technology and how you can modernize existing systems with IO-Link masters from Pepperl+Fuchs.
Advantages of IO-Link Devices
Compared to traditional field devices, IO-Link-enabled devices offer a multitude of features and advantages. These include simplified wiring using unshielded cables and standardized connectors, easy parameterization and rapid configuration when replacing a sensor, and access to far more diagnostic data for each IO-Link device, which significantly increases plant transparency.
Due to the wealth of information available from each sensor, these features maximize efficiency and system operability by simplifying troubleshooting and enabling predictive maintenance.
Integrating IO-Link into Legacy Systems
One of the major obstacles for integrating IO-Link devices into a system with a legacy PLC (such as a PLC-5 or SLC™ 500) is the inability of these systems to communicate via the Class 1 or implicit messaging required for IO-Link communication. Typically, the PLC must be replaced with a model that offers Class 1 messaging capabilities. The Pepperl+Fuchs ICE2 and ICE3 IO-Link masters offer a user-friendly complete solution that help solve such application scenarios.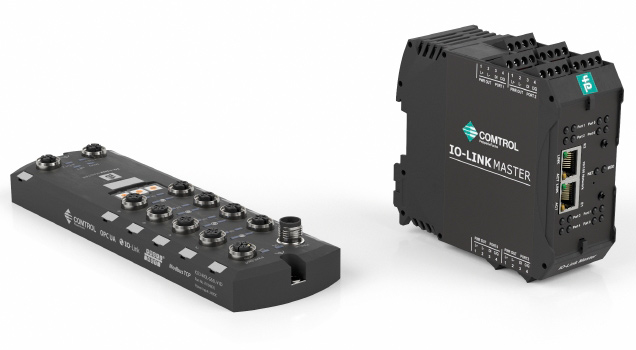 Pepperl+Fuchs ICE2 and ICE3 IO-Link Masters
Since Pepperl+Fuchs ICE2 and ICE3 IO-Link masters can communicate with legacy EtherNet/IP systems including Allen-Bradley PLC-5s and SLC™ 500s, IO-Link smart devices can be integrated into existing systems at a far lower initial cost. This means users can modernize their systems and benefit from IO-Link without having to replace the PLC.
The Pepperl+Fuchs ICE2 and ICE3 IO-Link masters also support MODBUS TCP, MQTT, and OPC UA simultaneously via the unique MultiLink™ feature. With OPC UA and MQTT, customers can communicate with a higher-level network such as a cloud-based service while still sending all the necessary data to their PLC. This allows for a SCADA management system to be implemented alongside the existing process, which means more diagnostic data, and in some cases, no PLC involvement.
More Information
<p style="text-align: left;">Subscribe to our newsletter and receive regular news and interesting facts from the world of automation.</p>
Subscribe