Durability Test for Pepperl+Fuchs Connectors
Pepperl+Fuchs mobile equipment connectivity products must withstand the world's toughest environments. In many applications, extreme temperatures, heavy contamination, aggressive substances, and mechanical stress play a major role. Connectors have to be sufficiently rugged and resistant and are tested above and beyond these requirements. In this blog post, we explain which tests our mobile equipment connectivity products have to pass in our in-house test laboratory to meet our high quality standards.
Which tests are being performed?
In general, mobile equipment products must pass different test categories before they can be launched on the market. These include tests for temperature resistance, mechanical stress, and resistance to chemicals.
Temperature Resistance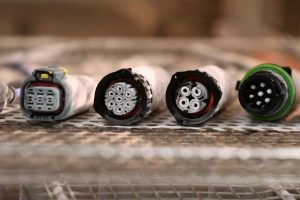 Storage: During storage, objects are cyclically exposed to temperatures of -50 °C and the maximum defined storage temperature. After exposure to these shocking temperatures, the objects undergo a tensile and bending test. If the product passes this test, it is immediately subjected to an IP test in accordance with the required degree of protection.
Humid icing: In this test, the test object is cyclically exposed to temperatures between -10 °C and +25 °C/+65 °C at a relative humidity of 95 %. This can result in damage to the surface structure, which can lead to even greater damage due to condensation and below-freezing temperatures. Especially with firefighting vehicles and asphalt paving machines, frequent switching between extreme ambient temperatures places high stress on the cables used.
Mechanical Stress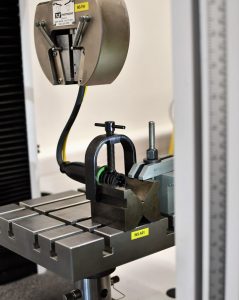 Vibration test: In this test, the structural stability and consistency of the object's connection contacts are tested using a shaker with strong vibrations. This can lead to fractures in the structure, fastening, and fastening straps and interruptions in the electrical connection. In its tests, Pepperl+Fuchs subjects the test object to a load of 20 g / 5 – 2000 Hz or broadband noise (5 – 500 Hz, 5 grms / 1 h / axis).
Impact test: The impact test is similar to the vibration test in that the test object experiences individual impact-like accelerations of 50 g for 6 ms. This procedure is repeated ± 1000 times in all three spatial axes.
Hightly accelerated life test (HALT): HALT is a test in which the object undergoes accelerated material aging to detect design problems and defects in the material. The test consists of combined stress factors: temperature changes, mechanical impact, and vibration (broadband noise).
Cable pull test: In this test, the cable is attached to a pull mechanism and subjected to a defined tensile force. This test is designed to find out if an object can withstand the tensile stresses in the target application while maintaining the guaranteed properties (function, degree of protection).
Impermeability test: Plug connections must be thoroughly checked for impermeability because water ingress during use can destroy all connected electronics. This is why IPx8 and IPx9 degrees of protection are tested for mobile equipment. For the IPx8 protection class, the test object is placed in 1.0 m of water and checked for possible water ingress over a period of 24 hours. For the IPx9 test, the object is exposed to a high-pressure/steam jet cleaner and a potential water ingress is checked.
Resistance to Chemicals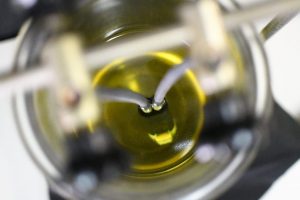 Pepperl+Fuchs relies on proven methods in its tests for resistance to chemicals. The following table shows chemical substances that are used in our tests. All substances except fuels are heated and the test object is then briefly immersed, stored for a period of time, boiled, and brushed, depending on the requirements. Criteria for testing the resistance to chemicals are discoloration, decomposition and swelling of the cables, a subsequent test of the degree of protection or similar. Customer-specific requirements can also be tested.

Improved overmolding
Pepperl+Fuchs has developed a high-density overmolding to replace the leaky, expensive backshell and unattractive shrink tubing solutions. The solution is even better at protecting the inner wires against mechanical, chemical, and UV stress. In addition, longitudinal water protection of the cable and the impermeability of the plug on the cable entry side have been significantly improved. Another advantage is the increased strain relief and the latching of the corrugated hose without additional backshell.
Summary
To ensure that all products in the Connectivity portfolio operate safely and reliably even under extreme environmental conditions, the products undergo particularly demanding test procedures. To meet the quality requirements, Mobile Equipment Connectivit come with all important international certifications and approvals such as:
E1 approval for road traffic
SIL and PL certifications
DNV-GL approval for marine applications
ATEX Directive 2014/34/EU, IECEx, UL hazardous location, Ex-NEPSI for hazardous areas
Special approvals for specific countries and areas of application (e.g. ANZEx)
Subscribe to our newsletter and receive regular news and interesting facts from the world of automation.
Subscribe