Which Applications Can Be Solved with the VOS Vision Tool Set?
To meet the diverse and highly complex requirements of industrial applications, users rely on a range of photoelectric sensors. The camera-based 2-D universal vision sensors of the VOS series not only close the gap between simple vision sensors and complex vision systems—they offer flexible configuration and open up the possibility for users to solve particularly complex automation tasks as well as multiple tasks with just one vision sensor. In this blog post, we will show you which software features the VOS sensors offer and the applications for which they are suitable.
"All-round Package" with Comprehensive Tool Selection

All necessary components of a vision system are integrated in the compact VOS sensor housing. Due to the extensive device software, a wide variety of tasks may be combined, including the positioning and guiding of objects on a roller conveyor with simultaneous detection and comparison of specific features, or optical measurement of components and identification of objects using 1-D/2-D codes as well as text recognition (OCR). Standard interfaces and the extensive accessories portfolio guarantee optimum adaptation of the sensor to your individual application.
On the hardware side, the VOS portfolio offers high scalability from simple vision applications to complex tasks: A high-resolution image acquisition chip, adjustable lenses for flexible measuring distances and object sizes, illumination, an integrated evaluation, custom programmable digital outputs, and Ethernet-based communication interfaces for easy connection to your control system.
Positioning and Guidance
When sorting goods into packages, pick-and-place robots are often used, which require precise position determination of the object to be sorted. The object is usually located in a packaging bag. This is where the VOS sensor comes into play. With the help of software-based vision tools, this sensor calculates the exact position in the X/Y direction as well as the angular position of the object and transmits this information to the PLC. Even different objects in the same packaging process can be detected and assigned. New object shapes can be taught in dynamically, and zero-point referencing, calibration of the camera perspective and correction of the lens are also possible. The data output can be flexibly formatted, allowing easy connection to the control system or a panel PC.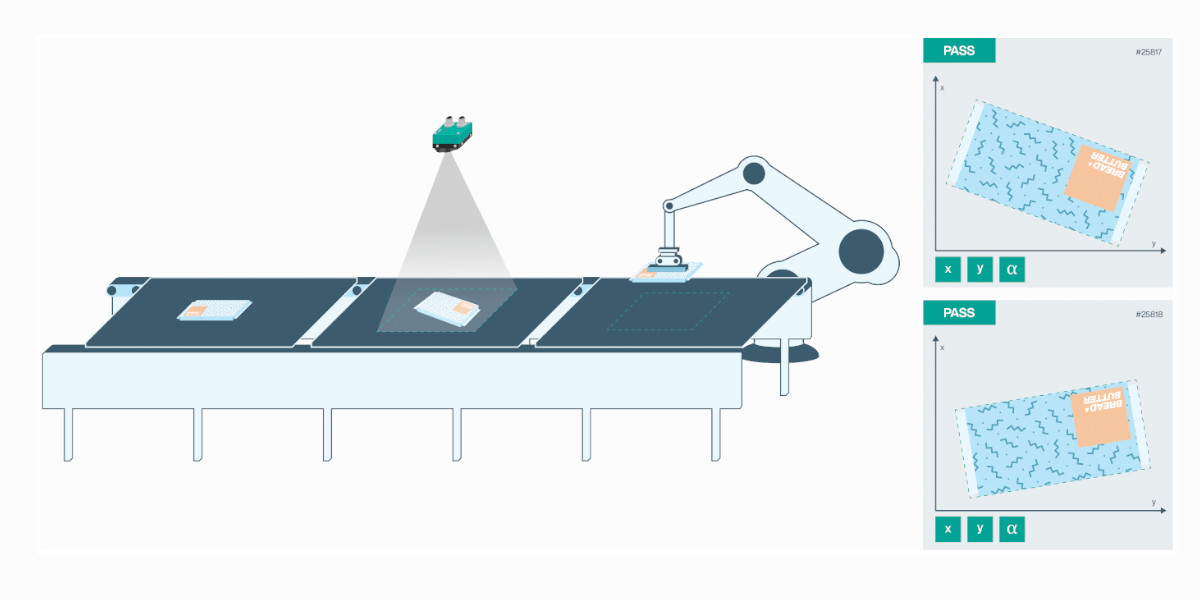 Detection and Comparison
The VOS series sensors are also used in filling plants. Errors can occur during the automatic filling, labeling or capping of bottles. Bottles with slipped labels or crooked caps must then be sorted out at very high processing speeds. For such cases, the VOS sensor offers a vision tool that guarantees total quality control at a high measuring rate. The vision sensor therefore checks the fit of the sealing capsule and the position of the label. The sensor's global shutter principle and very short exposure times ensure a blur-free image. With a hardware trigger such as a light barrier, precise timing of the exposure can also be implemented.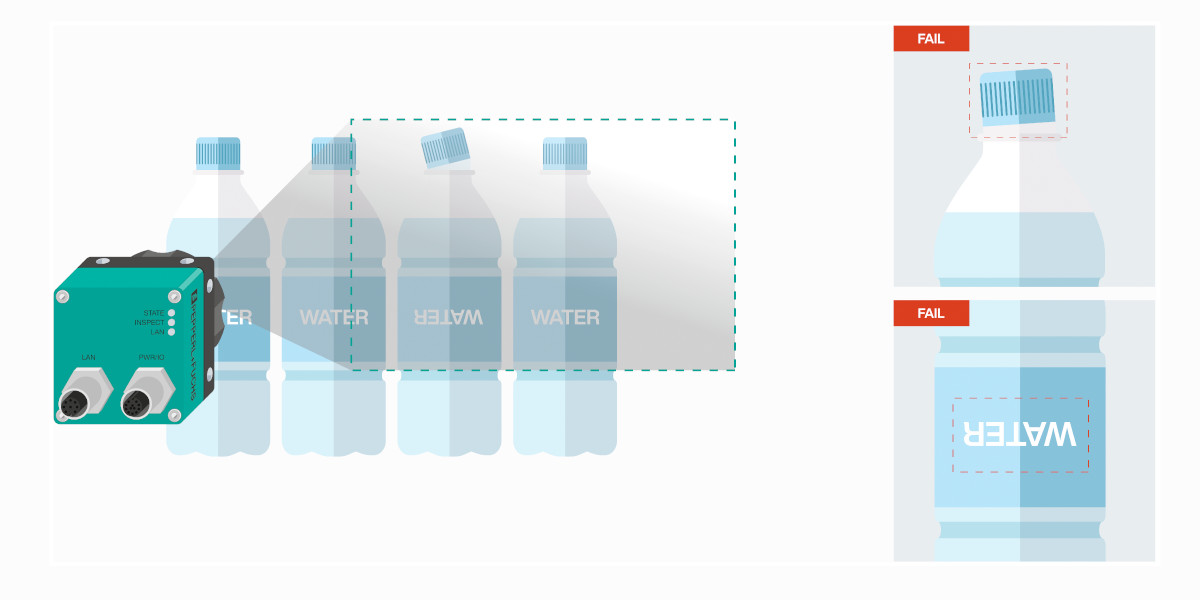 Identification and Text Recognition (OCR)
Objects can be identified using 1-D barcodes or 2-D Data Matrix codes. Here, you benefit from all the advantages of camera-based code reading, such as 360° reading of a code in any orientation. A single vision tool can detect and read up to 64 codes simultaneously. Optionally, multiple vision tools can be combined, allowing simultaneous reading of 1-D and 2-D codes of different code symbologies. The vision tools support a wide range of common code symbologies, including pharmaceutical codes.
Automatic text recognition (OCR) is used for reliable matching of important print data on products on the one hand and for reading complex fonts and characters with different spacing or sizes on the other. The VOS vision sensors enable reliable text recognition even with X/Y-shifted or twisted objects and provide various evaluation methods for an optimum result—including binary, gray or AI-based recognition of characters.
In the automotive industry, for example, the VOS sensors are used not only for quality control due to their wide range of functions, but also for tracing safety-relevant components or legally required markings. These components are labeled with codes and inscriptions in direct marking. Metallic surfaces may be oily and the illumination may cause strong light reflections or ambient light, and fluctuating ambient light may act as optical disturbances. This in turn can affect the reading. The VOS 2-D universal vision sensors, however, are designed to ensure safe and reliable reading of codes even under the most difficult ambient conditions and at greater measuring distances. Special vision tools, for example, ensure that markings with different fonts and code symbologies are reliably detected and read even under difficult conditions.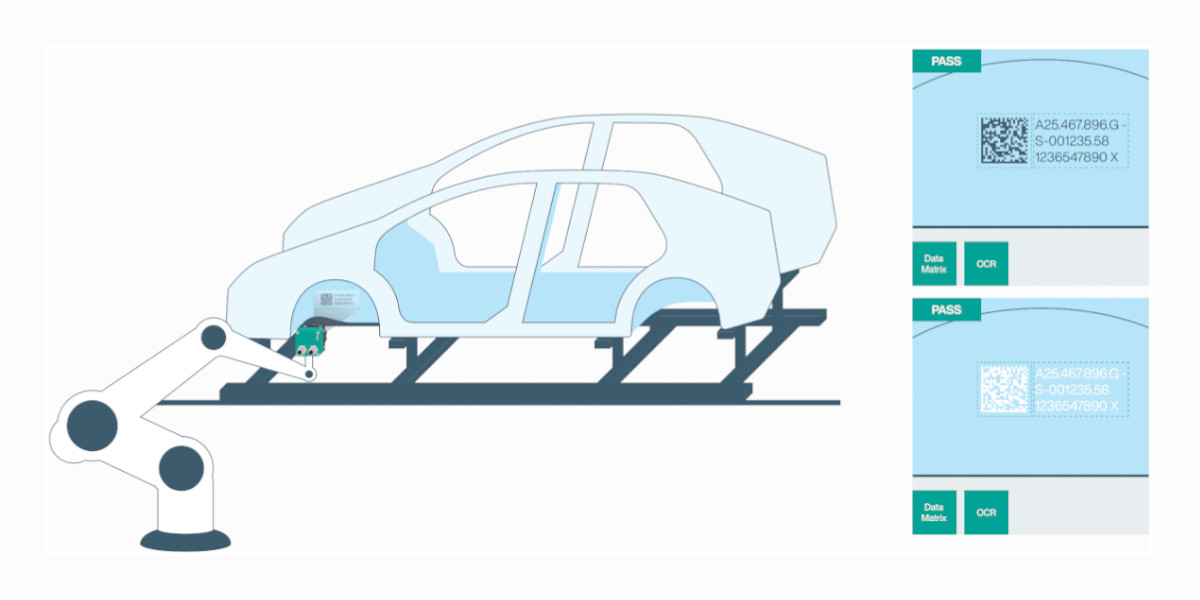 More Information
Subscribe to our newsletter and receive regular news and interesting facts from the world of automation.
Subscribe