Frequently Asked Questions (FAQ) on RFID (Part 1): General Questions
1. What Is RFID
RFID stands for "radio frequency identification" and refers to technologies that use radio waves to identify objects or people automatically. RFID makes use of the so-called "air interface," transmitting electromagnetic waves through the air. Typically, a serial number or other product- /object-related information ("identifier") is stored on a microchip. This chip is attached to an antenna that enables the chip to transfer the information needed for identification to a reading device. The combination of antenna and chip is called an "RFID tag" or "RFID transponder."
Reading devices feature functional and logical blocks to determine the communication routine for information exchange between reading devices and tags. The readers create an energy field which activates the tags. Although there are active tags with batteries available, most common RFID tags are passive, which makes them largely maintenance-free. Depending on the type of RFID tag, a wealth of different product-related information can be stored on a single tag. Special interfaces enable the communication of the RFID system with a PLC or other IT systems.
2. What Is the History of RFID?
According to various sources, the origins of RFID can be traced back to World War II when different countries were making use of radar technologies in air combat. Radar and radio frequency technologies gained more traction in the 1950s and 1960s when companies developed anti-theft systems based on simple 1-bit tags for stores. The first US RFID patents were registered during the 1970s when the diversity of RFID already showed: back then, the technology was used to secure trucks that transported nuclear materials or for the tracking of cows to better coordinate vaccination procedures.
The fascinating thing is that adaptations of all these applications are still in use today: planes carry identification tags, the system developed for nuclear material trucks has developed into toll payment systems used on roads, and cows all over the world are tracked with the help of low-frequency tags.
3. Where Is RFID Being Used?
The previous point already showed that RFID is a very versatile technology. The most common applications, aside from systems like Speedpass and toll collection systems, are access control and asset tracking solutions. Asset tracking leads to a wide variety of applications as different industries and companies all have numerous identification tasks along their production lines that need to be handled. Whenever parts and pieces are provided by many suppliers, identification becomes a must.
Think of the automotive industry, consumer electronics, textile industry, construction companies, or cooling chains in the food sector—RFID is at work everywhere. When it comes to access control, RFID can increase the safety of workers and ensure that only qualified staff members access certain areas and operate certain machinery.
4. Is RFID Standardized?
As with almost every automation technology, interoperability is a very important aspect of RFID technology. You want products from different vendors to communicate with one another. For that, there are global, national, regional, and industry-specific bodies that develop and supervise these different RFID standards. Simply put, RFID standards of global relevance have more parties involved than regional or industry-specific standards. On a global basis, very important bodies are EPCglobal, the International Electrotechnical Commission (IEC), and the International Standards Organization with its Joint Technical Committee (JTC 1).
Because the RFID market features various technical approaches and different frequency ranges are required, there are many different standards needed all over the world. The only type of RFID technology to be handled by a single global standard is passive UHF RFID. EPCglobal UHF Gen 2 V1, first published in 2004, also known as "EPC Gen 2," defines the physical and logical requirements for an RFID system of interrogators and passive tags, operating in the 860 MHz … 960 MHz UHF range. Through conformance and interoperability testing, the EPC Gen 2 standard ensures that Gen2 RFID products can interact with one another smoothly.
5. What Are the Benefits of RFID Technology?
RFID technology offers a number of clear-cut benefits. Most RFID tags can be reused almost countless times and due to their passive nature require no maintenance, making initial investments really pay off. Once an RFID system is applied in a process, error-prone manual data collection becomes a thing of the past. This means minimized administrative errors, better transparency, and huge speed gains.
For instance, our UHF RFID readers support multitag reading, which allows a higher production throughput and accelerated stocktaking. Whole logistics processes can be optimized in terms of efficiency with the use of RFID, as it also allows position determination and precisely targeted control of material flow.
More Expertise on RFID!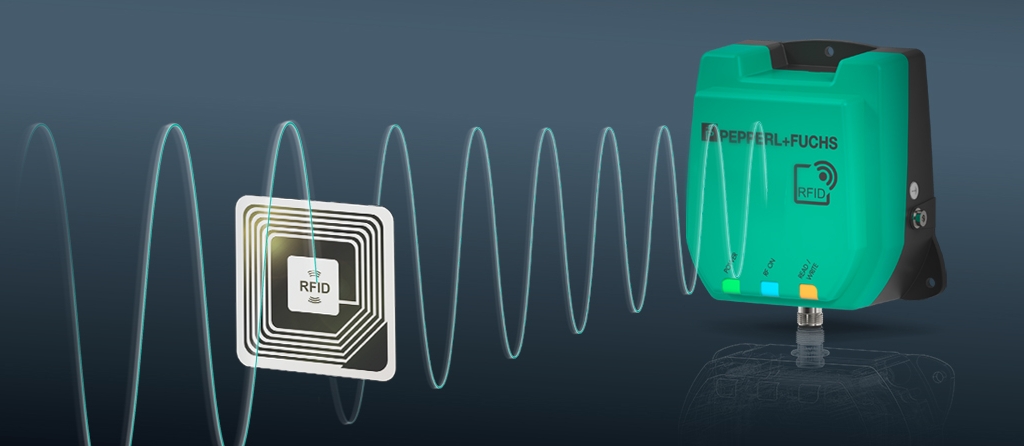 Visit our "RFID Hub"! On this special website, we have collected further FAQs, application examples and videos for you on the topic of RFID in automation. If you have any questions, our experts look forward to your inquiry at any time.
More Information
Subscribe to our newsletter and receive regular news and interesting facts from the world of automation.
Subscribe